About NVA
New Vision Art School is a one of a kind art school created by Lesly Pierre-Paul, supporting young artists as they create expressive and lively works connecting with their Haitian roots.

Operating since 2016, the school's purpose has always been to help kids in his community. With some help through the years, Lesly Pierre-Paul has been able to teach art at varying levels and help the students sell their art internationally. The money that is earned is given to the children's family to afford rent, buy more art supplies, organize field trips for students, and provide meals during lessons.

NVA creates a safe space for the kids to recreate and creates an important sense of community among young artists in Port-au-Prince's Arts District. This builds identity and confidence for the students, who bond over the art that they make and their experiences in such a recognizable school like NVA. Decorated with the works of past and present students, NVA plays an important role in the development of their skills and abilities as artists.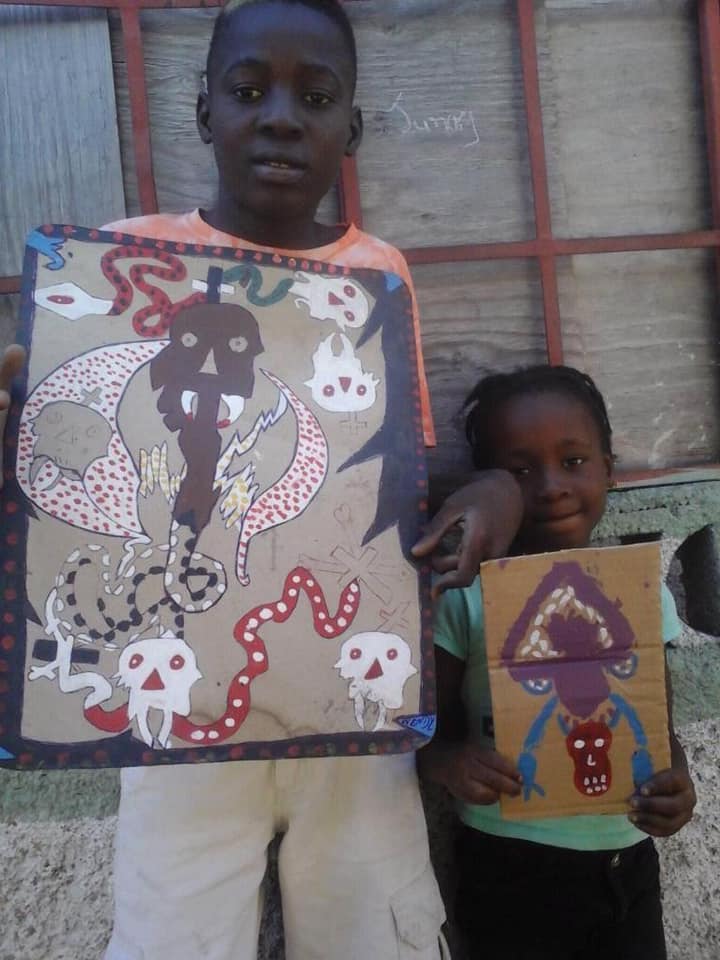 About the Teacher
Lesly Pierre Paul was born in 1990 in Port-Au-Prince, Haiti. Living in a place where survival is a challenge, his parents taught him early about the pricelessness of generosity. He devoted all of his time to education, hoping to bring a better future for Haitian society.

By the age of 19 he was pursuing a life in the arts and created a name for himself, focusing on his culture's spiritual and natural traditions. In 2015 he exhibited work with other Haitian artists at the Ghetto Biennale.

After a chance online encounter in 2017, he began to pursue paintings inspired by Haitian Vodoun, Nature, and the Occult. Through his self-teaching, curiosity, and determination, he found an ability to paint and draw. This passion would lead the official formation of the New Vision Art School.
With NVA, Lesly creates a safe and spiritual environment for the children of his community to thrive, develop a relationship to their lineage, to express their emotions, and to facilitate the growth of future artists.
Although he is no houngan, he teaches students about some of the important aspects of voodoo like Loas, or deities of the voodoo such as Papa Legba, The Twins, Ayizan, and Ogun Feray and their veves, or summoning symbols.


The art itself utilizes bright colors and patterned backgrounds creating a texture in the art that is distinct and recognizable. Subject matter ranges between fantastical situations and sobering realities of life itself. Birth, death, and the journeys that interweave between the two are apparent in the art and in the environment of Port-au-Prince.
NVA participates in helping to grow outsider fascination of Haitian Voudon. The art makes it possible for strangers to learn more about Haitian spirituality and work with the Loa. Papa Legaba can open the Doorways for all strangers who would like to learn and serve the Loa in their temple.